Smart Home Installation Reading
A smart home incorporates all the latest advances in technology to provide you with a home, which is energy efficient and provides you with maximum convenience, total comfort and improved security – all at your fingertips.
With our smart home Reading service, we help you incorporate multiple different smart home features that work with multiple different brands. From Nest Smart homes, to smart AI such and Google home and Amazon Alexa, we help you set up effective smart home systems to all those who live in Reading and Berkshire. Our smart home systems aim to bring modern day technology into your home.
Fundamentally, our smart home installation Reading Service encompasses every electronic item that you have in the house and connects them. This allows the interaction between security systems, heating controls, light switches with mobile devices, therefore you can ensure that if you think you have lock the door before leaving the house then you can make sure you have via your mobile. Smart houses provide you with the ability to control your house entirely digitally, thus providing you with a peace of mind.
Smart homes are a great way to add a different dimension to your home in Reading. Having a smart home installation can really be the change that brings your home into the 21st century. With multiple different levels, there is a smart home transformation for everyone. Whether you're just after a smart home reader, a smart lighting system, or a full smart home transformation in Reading, Hurst Development Solutions can help you.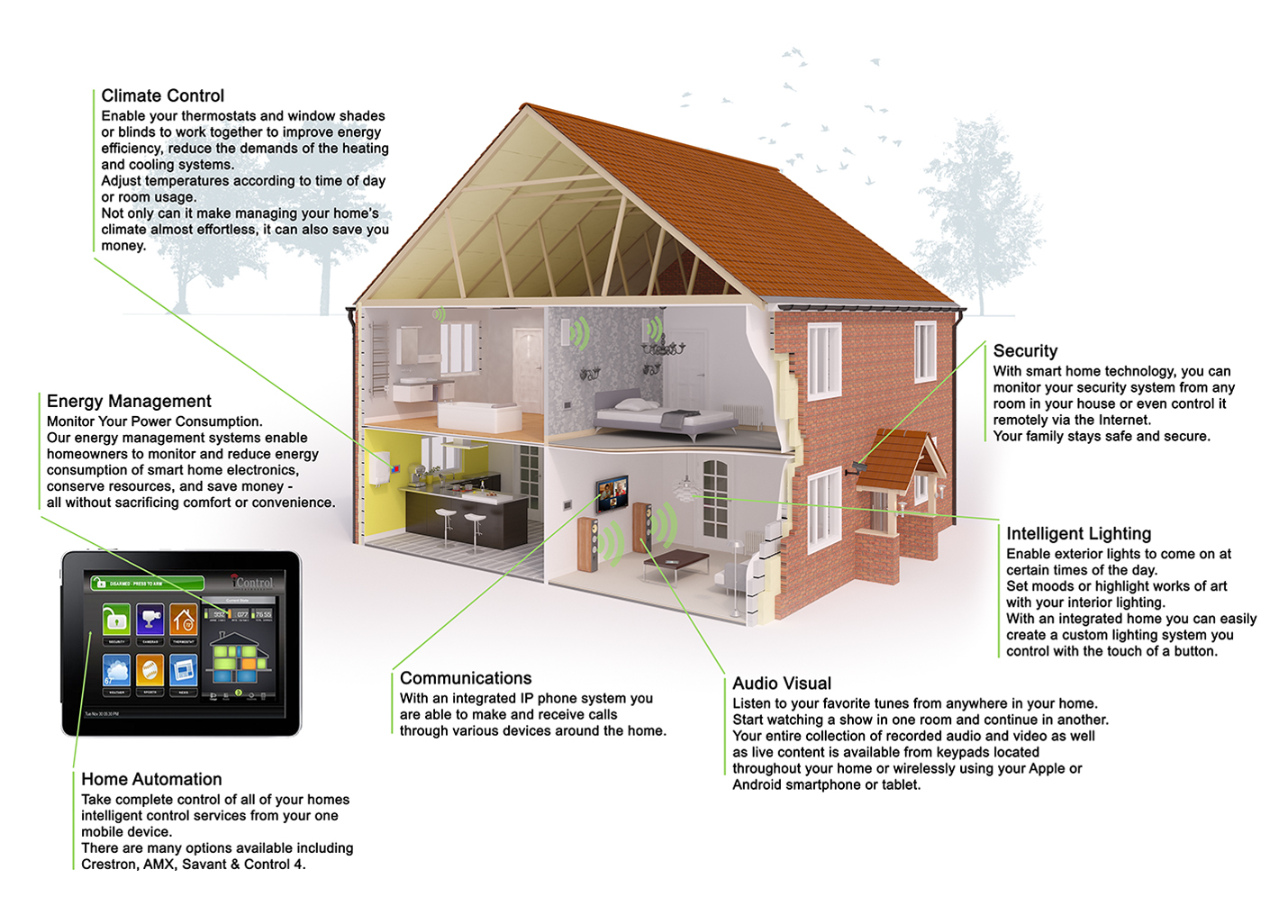 If you want to make your home in Reading a smart home, there are multiple different ways you can go about this. Smart home systems give you the ability to control multiple different features remotely to your property. These features include:
Climate Control
Energy Management
Smart Lighting
Smart Security
Communications
Audio Visual
Home Automation
Smart Climate Control
Enable your thermostats and window shades or blinds to work together to improve energy efficiency, reduce the demands of the heating and cooling systems. Adjust temperatures according to time of day or room usage. Not only can it make managing your home's climate almost effortless, it can also save you money.
Smart Energy Management
Monitor Your Power Consumption. Our energy management systems enable homeowners to monitor and reduce energy consumption of smart home electronics, conserve resources, and save money – all without sacrificing comfort or convenience.
Smart Home Lighting
Enable exterior lights to come on at certain times of the day. Set moods or highlight works of art with your interior lighting. With an integrated home you can easily create a custom lighting system you control with the touch of a button.
Smart Home Security
With smart home technology, you can monitor your security system from any room in your house or even control it remotely via the Internet. Your family stays safe and secure.
Smart Home Communications
With an integrated IP phone system you are able to make and receive calls through various devices around the home.
Smart Audio Visual
Listen to your favourite tunes from anywhere in your home. Start watching a show in one room and continue in another. Your entire collection of recorded audio and video as well as live content is available from keypads located throughout your home or wirelessly using your Apple or Android smartphone or tablet.
Smart Home Automation
Take complete control of all of your homes intelligent control services from your one mobile device. There are many options available including Crestron, AMX, Savant & Control 4.